Dan Gurney
Jump to navigation
Jump to search
Dan Gurney
Nationality American
Formula One World Championship career
Active years
1959 - 1968, 1970
Teams
Ferrari, BRM, Porsche, Lotus, Brabham, Eagle, McLaren
Races
87 (86 starts)
Championships
0
Wins
4
Podiums
19
Career points
133
Pole positions
3
Fastest laps
6
First race
1959 French Grand Prix
First win
1962 French Grand Prix
Last win
1967 Belgian Grand Prix
Last race
1970 British Grand Prix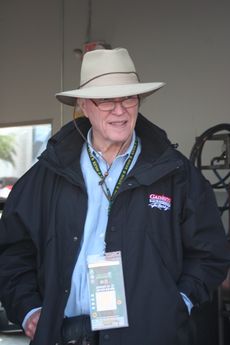 Daniel Sexton Gurney (born April 13, 1931) is an American racing driver, race car constructor, and team owner.
The son of a Metropolitan Opera star,[1] he was born in Port Jefferson, New York, but moved to California as a teenager. He has been a driver, a car manufacturer, and a team owner at racing's highest levels since 1958.
Gurney also won races in the Indy Car, NASCAR, Can-Am, and Trans-Am Series. Gurney is the first driver to win races in Formula One (1962), NASCAR (1963), and Indy Car (1967). The other two are Mario Andretti and Juan Pablo Montoya. In 1967, after winning the 24 hours of Le Mans together with A.J. Foyt, he spontaneously sprayed champagne while celebrating on the podium. Apart from starting this tradition, he also was the first to put a simple extension on the upper end of the rear wing. This device, called a Gurney flap, increases downforce and, if well designed, imposes only a relatively small increase in the drag.
Early life
Dan Gurney's father, John Gurney, was a prominent singer with the Metropolitan Opera in New York who retired in 1947 and moved the family to Riverside, California when Dan was a teenager. Young Dan quickly became caught up in the California hot rod culture. At age 19, he built and raced a car that went 138 miles per hour (mph) (222 kilometres per hour [km/h]) at the Bonneville Salt Flats. He then became an amateur drag racer and sports car racer. He served in the United States Army during the Korean War.[2]
Formula One Career
Driver
After driving a Ferrari at Le Mans in 1958, Gurney was invited to take a test run in a works Ferrari, and his Formula One career began with the team in 1959. In just four races that first year, he earned two podium finishes, but the team's strict management style did not suit him. In 1960 he had six non-finishes in seven races behind the wheel of a privately-entered BRM. At one race, the Dutch Grand Prix at Zandvoort, a brake system failure on the poorly-prepared BRM caused the most serious accident of his career (and a longstanding distrust of engineers), killing a spectator. The accident caused him to make a change in his driving style that later paid dividends: his tendency to use his brakes more sparingly than his rivals meant that they lasted longer, especially in endurance races.
Gurney was particularly noted for an exceptionally fluid driving style. On rare occasions, as when his car fell behind with minor mechanical troubles and he felt he had nothing to lose, he would abandon his classic technique and adopt a more aggressive (and riskier) style. This circumstance produced what many observers consider the finest driving performance of his career, when a punctured tire put him nearly two laps down halfway through the 1967 Rex Mays 300 Indianapolis-car race at Riverside, California. He produced an inspired effort, made up the deficit and won the race (with a dramatic last-lap pass of runnerup Bobby Unser).
After rules changes came in effect in 1961, he teamed with Jo Bonnier for the first full season of the factory Porsche team, scoring three second places. After Porsche introduced a better car in 1962 with an 8 cylinder engine, Gurney broke through at the French Grand Prix at Rouen-Les-Essarts with his first World Championship victory - the only GP win for Porsche as an F1 constructor. One week later, he repeated the success in a non-Championship F1 race in front of Porsche's home crowd at Stuttgart's Solitude race track. Due to the high costs of racing in F1, Porsche did not continue after the 1962 season, though. While with Porsche, Gurney met a team public relations executive named Evi Butz, and they married several years later.
Gurney was the first driver hired by Jack Brabham to drive with him for the Brabham Racing Organisation. While Brabham himself scored the maiden victory for his car at the 1963 Solitude race, it was Gurney again who took the team's first win in a championship race, in 1964, again at Rouen. In all, he earned two wins (in 1964) and ten podiums (including five consecutive in 1965) for Brabham before leaving to start his own team.
Manufacturer
In 1962, Gurney and Carroll Shelby began dreaming of building an American racing car to compete with the best European makes. Shelby convinced Goodyear, who wanted to challenge Firestone's domination of American racing at the time, to sponsor the team, and Goodyear's president Victor Holt suggested the name, "All American Racers", and the team was formed in 1965. Gurney was not comfortable with the name at first, fearing it sounded somewhat jingoistic, but felt compelled to agree to his benefactor's suggestion.
Their initial focus was Indianapolis and Goodyear's battle with Firestone, but Gurney's first love was road racing, especially in Europe, and he wanted to win the Formula One World Championship while driving an American Grand Prix 'Eagle'. Partnered with British engine maker Weslake, the Formula One effort was called "Anglo American Racers." The Weslake V12 engine was not ready for the 1966 Grand Prix season, so the team used outdated four-cylinder 2.7-liter Coventry-Climax engines and made their first appearance in the second race of the year in Belgium. This was the race of the sudden torrential downpour captured in the feature film Grand Prix, and although Gurney completed the race in seventh place, he was judged too far back to be classified as a finisher. Gurney scored the team's first Championship points by finishing fifth in the French Grand Prix at Reims.
The next season, the team failed to finish any of the first three races, but on June 18, 1967, Gurney took a historic victory in the Belgian Grand Prix. Starting in the middle of the first row, Gurney initially followed Jim Clark's Lotus and the BRM of Jackie Stewart. A muffed start left Gurney deep in the field at the end of the first lap. Clark encountered problems on Lap 12 that dropped him down to ninth position. Having moved up to second spot, Gurney set the fastest lap of the race on Lap 19. Two laps later, he and his Eagle took the lead and came home over a minute ahead of Stewart.
This win came just a week after his surprise victory with A.J. Foyt at 24 hours of Le Mans, where Gurney spontaneously began the now-familiar winner's tradition of spraying champagne from the podium to celebrate the unexpected win against the other Ford GT40 teams. Gurney admitted later that he took great satisfaction in proving wrong the critics who predicted the two great drivers, normally rivals, would break their car in an effort to show each other up.
Unfortunately, the victory in Belgium was the high point for AAR as engine problems continued to plague the Eagle. Despite the antiquated engine tooling used by the Weslake factory (dating from World War I), failures rarely stemmed from the engine design itself, but more often from unreliable peripheral systems like fuel pumps, fuel injection and the oil delivery system. He led the 1967 German GP at the Nürburgring when a driveshaft failed two laps from the end with a 42-second lead in hand. After a third place finish in Canada that year, the car would finish only one more race. By the end of the 1968 season, Gurney was driving a McLaren-Ford. His last Formula One race was the 1970 British Grand Prix.
Complete F1 World Championship Results
(key) (Races in bold indicate pole position; races in italics indicate fastest lap)
Year
Entrant
Chassis
Engine
1
2
3
4
5
6
7
8
9
10
11
12
13
WDC
Pts
1959
Scuderia Ferrari
Ferrari Dino 246
Ferrari
MON

500

NED

FRA
Ret
GBR

GER
2
POR
3
ITA
4
USA

7th
13
1960
Owen Racing Organisation
BRM P48
BRM
ARG

MON
NC
500

NED
Ret
BEL
Ret
FRA
Ret
GBR
10
POR
Ret
ITA

USA
Ret
NC
0
1961
Porsche System Engineering
Porsche 718
Porsche
MON
5
BEL
6
FRA
2
GBR
7
GER
7
USA
2
4th
21
Porsche 787
Porsche
NED
10
ITA
2
1962
Porsche System Engineering
Porsche 804
Porsche
NED
Ret
MON
Ret
FRA
1
GBR
9
GER
3
ITA
Ret
USA
5
RSA

5th
15
Autosport Team Wolfgang Seidel
Lotus 24
BRM
BEL
DNS
1963
Brabham Racing Organisation
Brabham BT7
Coventry Climax
MON
Ret
BEL
3
NED
2
FRA
5
GBR
Ret
GER
Ret
ITA
14
USA
Ret
MEX
6
RSA
2
5th
19
1964
Brabham Racing Organisation
Brabham BT7
Coventry Climax
MON
Ret
NED
Ret
BEL
6
FRA
1
GBR
13
GER
10
AUT
Ret
ITA
10
USA
Ret
MEX
1
6th
19
1965
Brabham Racing Organisation
Brabham BT11
Coventry Climax
RSA
Ret
MON

BEL
10
FRA
Ret
GBR
6
NED
3
GER
3
ITA
3
USA
2
MEX
2
4th
25
1966
Anglo American Racers
Eagle Mk1
Coventry Climax
MON

BEL
Ret
FRA
5
GBR
Ret
NED
Ret
GER
7
MEX
5
12th
4
Weslake
ITA
Ret
USA
Ret
1967
Anglo American Racers
Eagle Mk1
Weslake
RSA
Ret
MON
Ret
NED
Ret
BEL
1
FRA
Ret
GBR
Ret
GER
Ret
CAN
3
ITA
Ret
USA
Ret
MEX
Ret
8th
13
1968
Anglo American Racers
Eagle Mk1
Weslake
RSA
Ret
ESP

MON
Ret
BEL

FRA

GBR
Ret
GER
9
ITA
Ret
21st
3
McLaren M7A
Ford
CAN
Ret
USA
4
MEX
Ret
Motor Racing Developments
Brabham BT24
Repco
NED
Ret
1970
Bruce McLaren Motor Racing
McLaren M14A
Ford
RSA

ESP

MON

BEL

NED
Ret
FRA
6
GBR
Ret
GER

AUT

ITA

CAN

USA

MEX

24th
1
Legacy
Among American drivers, his 86 Grand Prix starts ranks third, and his total of four GP wins is second only to Mario Andretti. Perhaps the greatest tribute to Gurney's driving ability, however, was paid by the father of Scottish World Champion Jim Clark when he took Gurney aside at his son's funeral in 1968 and told Gurney that he was the only driver Clark had ever feared on the track. (Horton, 1999).
American Championship Car
While competing in Formula One, Gurney also raced each year in the Indianapolis 500 from 1962-1970. The last 3 years, he finished 2nd, 2nd, and 3rd, respectively. In 1969, he did not race in Formula One, instead racing in the USAC Championship Car series and also in CanAm. He started a total of 28 Champ Car races, winning 7 times among his 18 top tens. In 1969, he finished 4th in total points, despite starting half the races of most top drivers. In 1968, he finished 7th with only 5 starts.
Indy 500 results
| Year | Chassis | Engine | Start | Finish |
| --- | --- | --- | --- | --- |
| 1962 | Thompson | Buick | 8th | 20th |
| 1963 | Lotus | Ford | 12th | 7th |
| 1964 | Lotus | Ford | 6th | 17th |
| 1965 | Lotus | Ford | 3rd | 26th |
| 1966 | Eagle | Ford | 19th | 27th |
| 1967 | Eagle | Ford | 2nd | 21st |
| 1968 | Eagle | Ford | 10th | 2nd |
| 1969 | Eagle | Ford | 10th | 2nd |
| 1970 | Eagle | Offy | 11th | 3rd |
NASCAR career
Dan Gurney
Born
April 13, 1931
Hometown
Port Jefferson, New York
NASCAR Sprint Cup Series Statistics
16 races run over 10 years
Best Cup Position
Unranked
First Race
1962 Daytona Qualifier #1 (Daytona)
Last Race
1980 Winston Western 500 (Riverside)
First Win
1963 Riverside 500 (Riverside)
Last Win
1968 Motor Trend 500 (Riverside)

| Wins | Top Tens | Poles |
| --- | --- | --- |
| 5 | 8 | 10 |
Gurney's first career start was in 1962. Gurney was nearly unbeatable in a NASCAR Grand National car at the old Riverside International Raceway in Riverside, California. Four of his five victories came with the famed Wood Brothers. However, the 1967 race was won by Parnelli Jones, another open wheel and road racing driver making a one time appearance. Gurney's last start came in 1980. Gurney also made numerous appearances in NASCAR Grand American stockcars, a pony car division that existed between 1968 and 1971.
Full-Time Team Owner
Gurney and his protege Swede Savage drove identical factory-sponsored Plymouth Barracudas in the 1970 Trans-Am Series. Upon his retirement from Formula One, Gurney devoted himself full-time to his role as car maker and team owner. He has been the sole owner, Chairman and CEO of All American Racers since 1970. The team won 78 races (including the Indianapolis 500, the 12 Hours of Sebring, and the 24 Hours of Daytona) and eight championships, while Gurney's Eagle race car customers also won three Indianapolis 500 races and three championships. In 1978, Gurney wrote an open memo to other race car owners with what is now known as the "White Letter" in which Gurney called for a series controlled more by the owners or "actual participants" than under the USAC banner. After much debate, CART was formed with Gurney and other owners like Roger Penske, Pat Patrick, and Bob Fletcher. CART began its first full season of competition in March, 1979 and thus the first split in open wheel racing began.
AAR withdrew from the CART series in 1986, but enjoyed tremendous success with Toyota in the IMSA GTP series, where in 1992 and 1993 Toyota Eagles won 17 consecutive races, back-to-back Drivers' and Manufacturers' Championships, and wins in the endurance classics of Daytona and Sebring. The team returned to CART as the factory Toyota team in 1996, but left again after the 1999 season when Goodyear withdrew from the series and Toyota ended their relationship with the team. In 2000, Dan campaigned a Toyota Atlantic car for his son, Alex Gurney under the AAR banner.
In 1990, Gurney was inducted into the International Motorsports Hall of Fame. He is also a member of the Motorsports Hall of Fame of America, the Sebring International Raceway Hall of Fame, and the West Coast Stock Car Hall of Fame.
Trivia
He played the catalytic role in bringing together a major American manufacturer - Ford - and European designer and Lotus founder Colin Chapman, resulting in the Lotus-Ford effort at Indianapolis. This followed the earlier Indianapolis 500 entry of Jack Brabham and his Cooper-Climax, and helped usher in the "rear-engine" revolution in American open-wheel racing.
In 1971, he won the second Cannonball Baker Sea-To-Shining-Sea Memorial Trophy Dash, by driving a Ferrari Daytona from New York to Los Angeles in just under 36 hours together with Car and Driver magazine editor Brock Yates. This inspired the series of movies with Burt Reynolds and others.
Gurney developed a new kind of motorcycle called Alligator, which features an extremely low seat position.
Gurney's unusual height for a race driver caused him constant problems during his career. During the 1.5-liter era of Formula 1, Gurney's head and shoulders extended high into the windstream compared to his shorter competitors, giving him (he felt) an aerodynamic disadvantage in the tiny, underpowered cars. At nearly 6' 3", Gurney struggled to fit into the tight Ford GT40 cockpit, so master fabricator Phil Remington installed a roof bubble over the driver's seat to allow space for Gurney's helmet. In a fortunate error, the Italian coachbuilder which built the body for the 1964 Le Mans class-winning closed-cockpit Cobra Daytona GT coupe driven by Gurney and Bob Bondurant mistakenly made the cockpit "greenhouse" two inches too tall -- the only thing that permitted Gurney to fit in the car comfortably. [3]
He is one of only two drivers to win races in the four major motor racing categories: Formula One, IndyCar (USAC), World Sportscar Championship and NASCAR, the other being Mario Andretti.
External links
Notes
References
Sporting positions
Preceded by
Mike Spence
Brands Hatch Race of Champions winner
1967
Succeeded by
Bruce McLaren
Preceded by
Bruce McLaren
Chris Amon
Winner of the 24 Hours of Le Mans
1967 with:
A. J. Foyt
Succeeded by
Pedro Rodriguez
Lucien Bianchi
24 Hours of Le Mans winners

Eight-time
Six-time
Five-time
Four-time
Three-time

Woolf Barnato · Rinaldo Capello · Luigi Chinetti · Hurley Haywood · Phil Hill · Al Holbert · Klaus Ludwig · Marco Werner

Two-time

Henry Birkin · Ivor Bueb · Ron Flockhart · Jean-Pierre Jaussaud · Gérard Larrousse · JJ Lehto · Allan McNish · Manuel Reuter · André Rossignol · Raymond Sommer · Hans-Joachim Stuck · Gijs van Lennep · Jean-Pierre Wimille

One-time

Aïello · Alboreto · Amon · Ara · Attwood · Baldi · Bandini · Barilla · Barth · Benjafield · Benoist · Bianchi · Bloch · Blundell · Bouchut · Brabham · Brundle · Chaboud · Clement · Cobb · Davis · de Courcelles · Dickens · Duff · Dumfries · Étancelin · Fontés · Foyt · Frère · Gachot · González · Gregory · Guichet · Gurney · Hamilton · Hawthorn · Hélary · Herbert · Herrmann · G. Hill · Hindmarsh · Howe · Johansson · Jones · Kidston · Krages · Lagache · Lammers · Lang · Léonard · Marko · Martini · Mass · McLaren · Mitchell-Thomson · Nielsen · Nuvolari · Oliver · Ortelli · Pironi · Riess · Rindt · Rodríguez · Rolt · Rondeau · J. Rosier · L. Rosier · Rubin · Salvadori · Sanderson · Scarfiotti · Schuppan · Sekiya · Shelby · Smith · Trémoulet · Trintignant · Vaccarella · Veyron · Walker · Wallace · Warwick · Weidler · Whitehead · B. Whittington · D. Whittington · Winkelhock · Wurz
3/6/24 hrs + 2000km winners at Daytona

Five-time
Four-time
Three-time

Derek Bell · Butch Leitzinger · Scott Pruett · Brian Redman · Andy Wallace

Two-time

Mauro Baldi · Elliott Forbes-Robinson · A. J. Foyt · Al Holbert · Jan Lammers · Ken Miles · Juan Pablo Montoya · John Paul, Jr. · Lloyd Ruby · Wayne Taylor · Didier Theys · Al Unser, Jr.

One-time

Amon · J. Andretti · M. Andretti · Angelelli · Ballot-Léna · Bandini · Barber · Beretta · Bergmeister · Bernhard · Boesel · Borcheller · Bouchut · Boutsen · Brundle · Collard · Dismore · Dixon · D. Donohue · M. Donohue · Dupuy · Durán · Duxbury · Dyson · Elford · Fellows · Field · Fittipaldi · Fitzpatrick · Franchitti · Fréon · García · Garretson · Gentilozzi · Graves · Gurney · Hasemi · Helmick · Henn · Herrmann · Hezemans · Hill · Hoshino · Ickx · Jelinski · Joest · D. Jones · P. Jones · Kinnunen · Kneifel · Krages · Lässig · Lavaggi · Law · Lienhard · Luyendyk · Martin · Mears · Merl · Millen · Moran · Moretti · Neerpasch · Nielsen · O'Connell · Oliver · Ongais · Pace · Papis · Parsons · Paul, Sr. · Pescarolo · Pilgrim · Rahal · Rice · Robinson · Rojas · Schneider · Schrom · Sharp · Siffert · Suzuki · Unser, Sr. · van der Merwe · Weaver · Wendlinger · Werner · Wheldon
Categories
:
Articles with trivia sections from July 2007
Articles with invalid date parameter in template
American racecar drivers
American Formula One drivers
Formula One drivers and team owners
NASCAR drivers
Indy 500 drivers
International Motorsports Hall of Fame
1931 births
Living people