Ferrari 612 Scaglietti
Jump to navigation
Jump to search
Ferrari 612 Scaglietti
Manufacturer
Ferrari
Parent company
Fiat Group
Production
2004–present
Predecessor
Ferrari 456 M
Class
Gran Turismo
Body style(s)
2-door coupé
Layout
FMR layout
Engine(s)
5.7 L Tipo F133E V12
Transmission(s)
6-speed manual
6-speed 'F1A' semi-auto
Wheelbase
2949 mm (116.1 in)
Length
4902 mm (193.0 in)
Width
1956 mm (77.0 in)
Height
1344 mm (52.9 in)
Curb weight
1725 kg (3803 lb)
Designer
Pininfarina under Frank Stephenson
Manual
Service Manual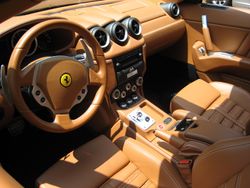 The Ferrari 612 Scaglietti (IPA: [skaʎˈʎetti] in Italian) is a grand tourer produced by Ferrari since 2004. It is a large two door fastback coupé. The 612 Scaglietti was designed to replace the smaller 456 M; its larger size makes it a true 4 seater with adequate space in the rear seats for adults.
It is produced at Ferrari's Carrozzeria Scaglietti plant, the former home of the car's namesake coachbuilder in Modena, Italy. The design, especially the large side scallops and the headlights, pays homage to the custom 1954 Ferrari 375 MM that director Roberto Rossellini had commissioned for his wife, Ingrid Bergman.
Chassis
The 612 is Ferrari's second all-aluminium vehicle, the first being the 360 Modena. Its space frame (developed with Alcoa) is made from extrusions and castings of the material, and the aluminium body is welded on. The chassis of the 612 forms the basis of the 599 GTB.
Engine
The 612 Scaglietti shares its naturally aspirated 5.7 L (5748 cc) V12 engine with the 575M Maranello. The Tipo F133E engine produces 397 kW (533 hp) at 7250 rpm and 588 N·m (433 ft·lbf) at 5250 rpm with a compression ratio of 11.2:1. The car is capable of 315 km/h (199 mph) and has a 100 km/h time of 4.3 seconds. It comes with two six speed transmission options: a conventional manual or the F1A semi-automatic paddle shift system, a much refined version of the F1 system in the 360.
Media
On Top Gear, host Jeremy Clarkson drove a 612 Scaglietti in a race against co-hosts James May and Richard Hammond who took planes, trains, and buses - from the studio in Surrey, England to Verbier, Switzerland. Despite a mechanic leaning on and bending one of the windshield wipers (creating an irritating rattle) and being stopped for speeding, Clarkson beat May and Hammond to the resort lodge, passing the two a short distance from the lodge.
In his DVD Heaven and Hell, Clarkson also claims the car is the most "astonishing" made that year, despite the looks.
| Engine type | Displacement | Power | Torque |
| --- | --- | --- | --- |
| Tipo F133E V12 | 5.7 L (5748 cc) | 397 kW (533 hp) | 588 N·m (434 ft·lbf) |
External links
Categories
:
Grand tourers
2000s automobiles
Rear wheel drive vehicles
Vehicles introduced in 2004